Product
SPH-2 high efficient palladium catalyst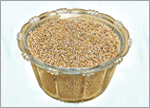 SPH-2 high efficient palladium catalyst
Use:
SPH-2 catalyst takes AL203 for carrier and metal palladium for activity component. It is a mew-style high efficient catalyst manufactured and developed by special technology. It is mainly used in hydrogenation catalysis of petroleum, medicine, organic synthesis, air purification, etc.
Using method:
1, Put the SPH-2 catalyst evenly in reactor, addition is up to productivity of equipment.
2, Pay attention to reduce fall, the initial hydrogenation temperature should not be high, hydrogenation degree should not be over 50%.
Using condition and technical parameter:
| | | | |
| --- | --- | --- | --- |
| Activating temperature: | 75-85℃ | Mechanical strength: | 40-80N/granule |
| Activating time: | 20-30hours | Bulk density: | 0.5-0.65kg/L |
| Airspeed: | 50-100hours-1 | Hydrogenation temperature: | 45-75℃ |
| Operating pressure: | Normal pressure -0.1Mpa | | |
| Granularity: | Φ2-Φ4 or L5-15、Φ2-Φ2.5 | | |